Laguna Seca. What is there left to be said about this astonishing circuit? It's brutally fast yet one of the shortest laps on the calendar. It has completely flat corners with no camber at all and it has corners where the camber just sucks you in. It has no real straights at all yet some of the kinks are pretty well flat out, occasionally over crests as well. And it has The Corkscrew. The feeling going through there is pretty much the same as Christopher Columbus would have experienced had he found that the flat earth believers were right. It has also give us some of the best racing of all time. It's a place where some riders have always gone well and some have never really cracked it. A place which punishes mistakes hard - once off the line the track has a coating of dust from the surrounding near-desert and is fiendishly low on grip. And the gravel traps are deep and effective, as witnessed by Casey Stoner a couple of years ago. But it's also a spectacularly hard place to race if you're carrying injury. Because it's short there are a lot of laps. And that means a lot of corners, a lot of braking and accelerating, a lot of forcing the bike to stay on the ground and change direction through The Corkscrew. It's very physical, very hot and anyone who is not fit in every sense will be hit hard racing GP distances around here.
Free practice gave us a repeat of what we've seen much of the season. A battle for honours at the top between Casey Stoner, Jorge Lorenzo and Dani Pedrosa. Honours were split between Stoner and Lorenzo, though the margin between the three was slim indeed. Andrea Dovizioso was up there sniffing around, as well as local hero Ben Spies, while Valentino Rossi struggled in sixth for both free practices. Just for once it seemed that the superhuman Rossi was being bested by the conditions...and his injury.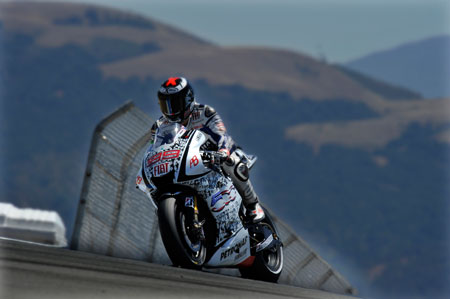 Qualifying gave us yet another masterclass from Jorge Lorenzo as he nailed his fifth successive pole just fifteen seconds from the end of the session after a fifty-two minute battle with Stoner where the lead swapped back and forth. Pedrosa got a look in briefly, as did Bautista, Barbera and Melandri, with Capirossi taking a spell at the top as well ina good showing for the Suzuki veteran. Valentino Rossi stayed where he's been all weekend, a steady but probably not especially comfortable sixth behind Ben Spies and Dani Pedrosa, the Honda rider being pipped at the last minute for a front row start by his team-mate Dovizioso. Row three had Nicky Hayden ahead of Colin Edwards and Marco Simoncelli, while Barbera headed Melandri and Capirossi on the fourth row.
It'll be no surprise to anyone who knows California to hear that race day was dry, warm and, well and the same as the rest of the weekend. Warmup means nothing at all, as you know, but one thing interesting came out of it. Valentino Rossi found a little something and ended the session fourth behind Lorenzo, Stoner and Pedrosa. His mate Marco Melandri followed him home ahead of ben Spies and Nicky Hayden. Which gave us some interesting permutations on our predictions for the race ahead.
Lights out and one prediction immediately came true. Dani Pedrosa came off the line as if he'd borrowed one of Wile-E-Coyote's ACME catapults and sliced through to the lead in spectacular style. Geez, that boy is fast. Hot on his heels, Casey Stoner was riding the Ducati as though he'd stolen it while Lorenzo made an uncharacteristically slow start to finish the first lap in third after getting duffed up quite well off the line. Behind the leading trio, things were fairly static with everyone staying on and completing the first lap in essentially their starting order. It's telling to note that by the end of that first short lap, while the leading pair were split by just over atenth of a second, it was a further half a second back to Lorenzo and half a second more back to fourth placed Dovizioso. It only took a lap for Lorenzo to regroup and start closing in, though, and by the end of lap three he was just two tenths behind Stoner. But In front, Pedrosa had his head down, his bum up and he was really going for it. Stoner was starting to struggle with the Ducati, the big red bike seeming not to be so easy to turn, and on lap five he ran wide and allowed Lorenzo to slip underneath and set off after the rapidly disappearing Pedrosa.
But what about the action behind?
Good question. The Rossi/Dovizioso battle was in full heat, with the gap alternating between, well between nothing and around three quarters of a second. No doubt thta Rossi was piling on the pressure and similarly little doubt that he would get past. But before he did there was a distinct tailing off in The Doctor's performance. Perhaps again we weere seeing a chink in his armour? Or perhaps not, because after a couple of laps' breather, off he went again, reeling Dozioso in and passing him before opening an immediate and unbridgeable gap. And behind that battle is was a scrap of the homeboys. Nicky Hayden, Ben Spies and Colin Edwards all fought hard for the honour of being the top Yank. For a while, not only did it look as though Hayden was going to win this, but he also seemed about to pass Rossi, who was clearly flagging. But only for a while, as the Italian dug deep and passed Dovizioso to add some comfortably clear air between himself and the Ducati. Further back, Alvaro Bautista took an early bath after tangling with Aleix Espargaro. A lap later, Hector Barbera went gravel surfing too, in what was going to become quite a race of attrition.
Because what happened next may well have decided the championship. Running clear at the front, over half a second in front of Lorenzo and having set, and broken, a new lap record, Pedrosa had nothing to worry about. Except for the mixture of bumps and dust on the approach to turn five. Peeling in on lap twelve, the Honda twitched a bit on the bumps, slid a bit on some dust and then just folded. Even Pedrosa couldn't save it and the poor guy was flung across the gravel into a well placed airfence while the bike demolished itself in the gravel trap. That one, self confessed, mistake robbed Pedrosa of a potential twenty five points to reduce Lorenzo's lead by five anyway. Instead it gifted the win to the Spanish rider, who was so far ahead that he really didn't have anything to worry about. Stoner, a couple of seconds behind, had such a vast lead over the following riders that he too could relax. He certainly wasn't about to pass Lorenzo, but in fairness, nobody was about to pass him either.
A couple of laps later and it was Marco Simoncelli's turn to launch a Honda into the scenery, again at turn five and again losing the front on the way in. And, four laps from the end, Alex Espargaro made a sectacular face plant after having been spat off the Pramac Ducati to slide through the gravel and out of contention, again on turn five.
But the real action, the bit that had us all on the edge of our seats, was the fight for the last podium spot between Rossi and Dovizioso. A fight that went right down to the last corner, and a fight that, ultimately, Valentino Rossi won.
So at the end of an intermittently exciting race. Jorgo Lorenzo took a clear win from Casey Stoner, with Valentino Rossi a distant, but still quite astonishing, third. Andrea Dovizioso was a hard charging fifth, ahead of Hayden, Spies and Edwards. Loris Capirossi and Mika Kallio had a race long scrap, which the Finn finally won by just one thousandth of a second to relegate the Italian to tenth.
Now we have a short break before reconvening at Brno on 15th August. 3 weeks for The Doctor to improve his fitness further before coming out on circuit at which he has always shone. At the lafway mark, with nine more rounds to go, I'm still betting on a Yamaha 1-2 in the championship. I'm just not sure what the order will be, because racing can be unpredictable at times...
SB
United States MotoGP Results
1. Jorge Lorenzo (Yamaha)
2. Casey Stoner (Ducati)
3. Valentino Rossi (Yamaha)
4. Andrea Dovizioso (Honda)
5. Nicky Hayden (Ducati)
6. Ben Spies (Yamaha)
7. Colin Edwards (Yamaha)
8. Marco Melandri (Honda)
9. Mika Kallio (Ducati)
10. Loris Capirossi (Suzuki)
MotoGP standings (after nine rounds)
1. Jorge Lorenzo 210
2. Dani Pedrosa 138
3. Andrea Dovizioso 115
4. Casey Stoner 103
5. Valentino Rossi 90
6. Nicky Hayden 89
7. Ben Spies 77
8. Randy de Puniet 69
9. Marco Melandri 53
10. Marco Simoncelli 49