Sepang circuit in Malaysia is the second slightly odd track we've visited in as many weeks. Like Motegi last week, a lot of might be described as drag strips linked by corners. There are certainly some terrifyingly fast straights, bizarrely all leading into hairpins or extremely tight bends. The rest of the circuit is twisty and demanding. As Sepang is a modern, purpose built track, it's as safe as can reasonably be expected but happily relatively free of the sterility that can afflict circuits like this.
Malaysia being, well, Malaysia, it's not unheard of for it to be a little damp here. More importantly for the riders, though, it's extremely hot and humid. The heat is debilitating and it's not that unusual to see riders actually withdrawing from the race because the conditions are just too much for them and they get ill. Obviously everyone is down on power as well, but that's actually less of an issue.
Coming here, all Jorge Lorenzo had to do was finish ninth to lift the title. And with Dani Pedrosa sidelined by that stuck throttle last weekend, there was nobody really likely to threaten his dreams. With ferociously fast straights leading into maximum effort braking areas, it's again not a circuit that favours anyone carrying injuries, And the heat and humidity will play havic with anyone who isn't super fit as well. So again nobody was expecting a great deal from Valentino Rossi this weekend. The man has a damaged shoulder, after all, that has been holding him back all season...
Free practice saw a recent, and not good, trend continuing. This time it was Loris Capirossi's turn to have an enormous and unexpected crash, the popular Italian landing hard and giving his foot and ankle a real battering. His continued participation is testament to his grit and determination in this, his swansong season. Valentino Rossi continued his return to form by posting the fastest time in the first session, with Dovizioso showing strongly in secondand Casey Stoner bimbling along in third knowing that he really doesn't have to do much more than pitch up and finish to sew the championship up. And with that in mind, his taking the fastest time in the second session, from Stoner and Rossi, is slightly surprising. Mind you, I'm not convinced that Lorenzo knows how not to compete...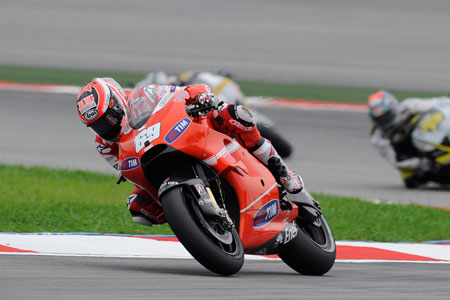 Of course, practice is just that - finding their way around. Qualifying is rather more important, and here Lorenzo again rose to the fore, taking pole in the last seconds from a hard charging Nicky Hayden while Dovozioso completed the front row. Ben Spies came so close to a front row start but had to settle for the front of row two, leading Stoner with Rossi just seven thousandths of a second behind. Colin Edwards sat behind Spies on row three, ahead of Bautista and Capirossi who could barely walk but managed an herculean effort to qualify.
Race day was more of the same weather-wise. Hot and humid, with rain threatening but never actually materialising. Warmup saw track temperatures of forty three celsius (nearly a hundred and ten fahrenheit) with more to come. It also saw Valentino Rossi go quickest again, a sure sign of intent but again not really signifying anything of import. Stoner was second, ahead of Lorenzo, Colin Edwards and Dovi.
By the time we got to the race, temperature had climbed and dropped again, while humidity had risen to a crippling forty four percent before dropping back to something vaguely manageable. Lights out, and pole holder Lorenzo got off to a fantastic start, leading into turn one. Rossi's start was not so good, though, as the Yamaha bogged down and then he got boxed in and dropped as low as 11th on the opening lap. Casey Stoner, hotly tipped for glory here, suffered a huge disappointment when he crashed out on the opening lap, completely unforced, wrecking the Ducati and leaving him with a long walk through the gravel before the ride back to the box.
Up at the front, Andrea Dovizioso stuck with Lorenzo and the pair soon opened some clear air back to the pursuing pack. But remember what I once said about never writing Valentino Rossi off? By only the third lap the World Champion had sliced, elbowed and generally carved his way up to fourth position as he set his sights on the leaders. Soon he was into third and closing in further on Dovizioso, proving beyond all reasonable doubt that while he may be about to lose the title, there's no way that he's lost his touch.
Loris Capirossi and Aleix Espargaró both crashed out while all this was going on, the Suzuki rider having to be helped away as his already injured feet and ankles got battered more, while the Ducati rookie was unhurt after the front washed out. Colin Edwards had a technical issue which saw him first have a front brake problem, then struggle with front grip and turn-in and then crash. He remounted but,though in a points scoring position, moved over to make sure that he didn't get in the way of the front runners on the final lap and ruled himself out of being classified at the same time. the right decision, for sure, but one that must stick in the likeable Texan's craw.
Meanwhile Rossi was repeatedly threatening and breaking the lap record as he homed in on the leading pair, and just past the midway point of the race the Yamaha rider took the lead, having first passed Lorenzo and then Dovizioso. The two Italians then continued to fight for the lead until the very end, while Lorenzo was content to sit back and enjoy the show. Rossi was not to be denied his second win of the season (hard to believe, isn't it? Just one win at Qatar and then here). After a really hard scrap that saw Dovizioso get close using that Honda power but never close enough to overcome the handling and talent advantage of Rossi and the Yamaha, Rossi crossed the line jusy over two tenths ahead of Dovizioso, with Lorenzo in third to lift the 2010 World Championship and take his thirteenth podium of the season.
Ben Spies and Alvaro Bautista scrapped for much of the race for fourth, with Spies coming out ahead and the Suzuki rider getting his best finish so far. Nicky Hayden had gone well but seemed to fade a bit, ending up holding off Hiroshi Aoyama to take sixth, with the 2009 (and last) 250 champion also getting his best finish so far in seventh. Behind him, team-mates Simoncelli and Melandri scrapped all race long, the youngster prevailing over his relatively experienced colleague by just under half a second, while de Puniet rounded out the top ten.
So that's it. Jorge Lorenzo is World Champion for 2010 - only the second ever Spaniard to hold that honour (the other being Alex Criville back in 1999) - after an utterly dominant first half of the season and a controlled, relaxed, mature second half. Is he the most exciting rider ever? No, but he's shown that he can fight with the best, and he's consistent and technically very capable. Some will say that this title was gifted when Rossi got hurt, but I'd disagree. Jorge had the edge from the outset this year, and Valentino was having to work harder than ever before. Perhaps for the first time ever, The Doctor was playing catch-up instead of making everyone else run around after him.
It will be very interesting indeed to see how Rossi gets on with the Ducati next season, and just how much of a fight there's going to be. Because Stoner, Pedrosa and Dovizioso are all capable of winning races, as is the Honda. Spies and Lorenzo are clearly at the top of the game, and the Yamaha is a very complete package. And with Rossi perhaps Ducati have the man they need to help get the undoubtedly very fast Desmosedici working properly again to take another title. Oh, and to make Valentino Rossi the only man ever to have taken World Championships on three different manufacturer machines...
In the meantime, we've still got Phillip Island next weekend before Estoril and then Valencia a couple of weeks later. Long old season, isn't it?
SB
1. Valentino Rossi (Yamaha)
2. Andrea Dovizioso(Honda)
3. Jorge Lorenzo (Yamaha)
4. Ben Spies (Yamaha)
5. Alvaro Bautista (Suzuki)
6. Nicky Hayden (Ducati)
7. Hiroshi Aoyama (Honda)
8. Marco Simoncelli (Honda)
9. Marco Melandri (Honda)
10. Randy de Puniet (Honda)
MotoGP standings (after fifteen rounds)
1. Jorge Lorenzo 313 (2010 MotoGP World Champion)
2. Dani Pedrosa 228
3. Valentino Rossi 181
4. Casey Stoner 180
5. Andrea Dovizioso 179
6. Ben Spies 152
7. Nicky Hayden 139
8. Randy de Puniet 94
9. Marco Simoncelli 92
10. Marco Melandri 86