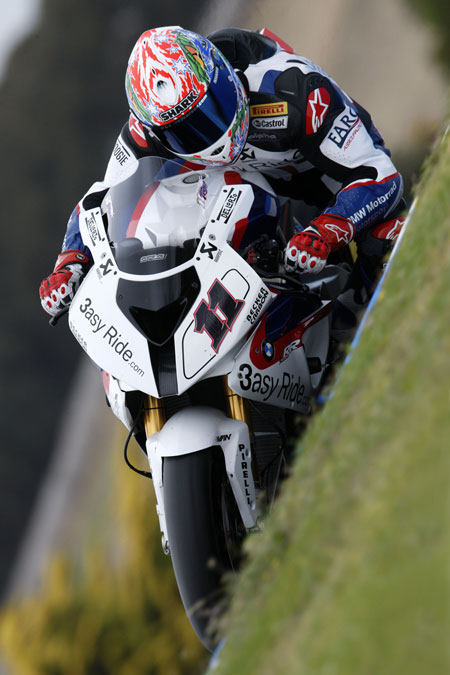 Phillip Island is a truly remarkable circuit. It gets the whole gamut of weather, sometimes in the space of a few minutes. One of the corners is called Siberia because it's so cold there as the wind whistles in straight off the Antarctic. And yet track temperatures can easily hit thirty degrees on a sunny day. The local fauna has an alarming tendency to throw itself under or into motorcycles travelling at high speed and the wind cam swing around to either give you a massive braking assistance as you come up to a corner...or tuck in behind you to make you too fast to turn. Despite the fearsomely fast corners, some with almost flat out approaches, it's a supremely safe track with massive runoff areas and an enviable record in massive crashes from which the riders have walked away.
It's also the first race of the 2010 season, which alone warrants some more comment that the usual preamble.
So let's have a quick look at what we've got to look forward to. First of all, of course, is the astounding number of Brits in the mix. And not on doggy old privateer bikes, either. No, they're all on top flight kit. Top of the stack, I guess, is double World Champion James Toseland. Toseland didn't set the world on fire in MotoGP as we expected, but did well enough that Yamaha wanted to keep him in the fold. So he swapped seats with 2009 champion Ben Spies to have a stab at being the first person ever to win the title on three different makes of bike. He's joined by 2009 World Supersport champion Cal Crutchlow, the likeable young Coventry lad keen as mustard and anxious to prove that he's up to the move to a bigger machine. 2009 British Superbike champion Leon Camier partners the mercurial Max Biaggi on the factory Aprilia, while Leon Haslam makes the next step up from a decent privateer bike last year, securing a ride on the factory Suzuki alongside Frenchman (but honourary Brit) Sylvain Guintoli. Tom Sykes is on the factory Kawasaki with another MotoGP refugee, Chris Vermeulen, alongside him, while Shakey Byrne has the second Althea Ducati, with Carlos Checa on the first one.
Despite the massive British contingent, there are still teams without a British rider. Xerox Ducati have stuck with the pairing of Haga and Fabrizio from last year. BMW have also stuck with the Corser/Xaus combination that proved so effective in developing the machine.
So there are, I'd say, at least half a dozen genuine contenders for the championship. Toseland, of course, though I suspect he'll start too slowly and though he'll surge toward the end he'll be too late to lift the title this year. Crutchlow will be stronger earlier but then tail off compared to his team-mate. Leon Haslam can't be dismissed though. He's fast anyway and with a properly sorted and supported bike he could well have what it takes. Of course, neither Haga nor Fabrizio can be ignored. And the Kawasaki may be a little flaky but there's a lot of talent riding it. BMW have a massively well organised and professional team, and you know they'll be working their backsides off to make the jump from fast midfielder to fast front runner, and Troy Corser is still hungry for wins while Xaus is still chasing the success his talent deserves. And finally, Aprilia have already proved they can win races. With the undoubtedly talented Max Biaggi being kept honest by the equally skilled but less experienced Camier, it would be a foolish gambler who would discount them from the mix.
Anyway. Enough speculation over the rest of the season. We're here to report on the opening round at Phillip Island. So let's do that, shall we?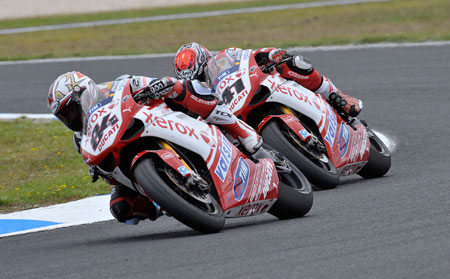 First honours in the first session of the first race of the season went to Leon Haslam, followed by Biaggi and Shane Byrne. And for the rest of practice and qualifying, it would be Haslam and Checa sharing the top of the leaderboard, joined by Fabrizio, Cal Crutchlow and Johnny Rea. Superpole was a similar story, except that Haslam stayed at the top all the way through, with Crutchlow just being pipped by Fabrizio in the dying stages of the final session for second and Checa taking the final place on the front row. Sylvain Guintoli continued the good start for Suzuki, heading up the second row from an on-form Jakub Smrz on the privateer Ducati, Johnny Rea and James Toseland, whose second row position is respectable for a man just back on a superbike. Especially as he had a huge crash on Friday in practice, injuring his hand. Row three saw the irrepressible Lorenzo Lanzi ahead of Nori Haga, whose Superpole challenge went awry in the second session, Max Biaggi for whom we could say the same and Tom Sykes on the lead Kawasaki. Troy Corser made great progress on the BMW but still only managed to get to the front of row four, ahead of Chris Vermeulen, Ruben Xaus and Leon Camier.
Warmup is usually a fairly unspectacular affair. Riders are getting into the groove and there are psychological points to be gained, but it doesn't really mean anything. Not this time, though. Just a few laps in, Xaus was slipstreaming Haga down the straight as usual, but when he moved across to pass, somehow he lost the front and went down hard and fast, sweeping the unfortunate Haga with him. Both riders tumbled into the gravel, their bikes spectacularly disintegrating around them. Fortunately neither of them were collected by anything solid and both walked away from the carnage, apparently none the worse for the experience. I say apparently because it soon became evident that Xaus was not going to play any further part in proceedings as he was sufficiently battered and bruised to rule him out.
So with the drama out of the way, hopefully, it was time for the main event. Well, the first half of the main event, anyway.
Race one started with a bang. Not literally. Leon Haslam made the most of his pole position to slot straight into the lead, but it was Nori Haga who really got the flyer, going into turn one in third place, just behind Michel Fabrizio and clearly not in the mood to take any prisoners. Johnny Rea slotted into fourth with Cal Crutchlow snapping at his heels, while Carlos Checa shot backwards to end the first lap in sixth place, just ahead of Toseland who had also made a good start.
Up at the front the two Xerox Ducatis were scrapping and holding each other up a bit while Haslam was riding the wheels off the Suzuki and extending an early lead. In fact he turned in the fastest lap of the race on lap two. And further back things were hotting up as well. Shane Byrne took a brief trip into the gravel, rejoining down the field. And on lap three Toseland crashed hard on the drop down into MG, highsiding the Yamaha and landing on his injured left arm. He got up and walked away, but not for a while. Next lap it was Vermeulen's turn to crash out, the Kawasaki grenading its engine in a big way as it lay on its side in the gravel, hoovering up heaven knows what through the big air inlets. And the next lap Cal Crutchlow added to Yamaha's woes, losing the front and crashing out, unhurt, at the Honda Hairpin.
Meanwhile, Haslam was still clear at the front, though Fabrizio had finally got the better of Haga and was trying to close the gap. Trying with some degree of success, it's fair to say. Indeed, from lap four onwards the gap was never over half a second. Sometimes quite a lot less. Behind the leading trio, Max Biaggi had made considerable progress on the Aprilia, dragging his way up from a lowly tenth at the end of lap one to start hassling Rea. And just to make things harder for the Ulsterman, Checa, Guintoli and Camier all came with him. The real race action was right there, as that group vied for fourth, all the while keeping in mind that if any of the leaders had a problem then there was at least one podium place up for grabs. Leon Camier looked like the man to watch for a while before outbraking himself and running on at the Honda Hairpin. He got turned and back on the track, but went from seventh to fourteenth in one fell swoop.
Haslam rode an inch perfect race right up until the last lap. Fabrizio had kept closing the gap and was starting to look like a real threat. The Ducati has massive drive out of corners and it was clear that the exit of the final turn was going to be really critical. As they came out the Ducati definitely had the legs on the Suzuki and the gap closed and closed until it was too close to call. Crossing the line the Italian obviously thought he'd won, but the photofinish told a different story. By just four thousandths of a second, Leon Haslam had own his first ever World Superbike round. Nori Haga came in third, three quarters of a second back after twenty two laps, while there was a yawning nine and a half seconds before Rea crossed the line half a second ahead of Biaggi who was in turn just a third of a second clear of Guintoli. Just over a tenth of a second later, Carlos Checa roared across the line with a long five second gap back to Jakub Smrz and Troy Corser a further four seconds back. A pretty good start to the season, I'd say.
Race two gave us more of the same, really. Again Haslam made a brilliant start, again Haga did even better and again Checa went backwards. This time, though, Chris Vermeulen made a cracking start, scything through to fourth ahead of Guintoli, with Toseland behind him. This time, though, despite their undoubted speed, the Xerox Ducatis weren't able to hold off the Suzuki of Guintoli, who pushed through to challenge, and take, the lead on lap six. For a while it was Suzuki formation flying at the front before Haslam repassed his team-mate for a lap. Then the Frenchman came back past, only to yield a lap later. And so it carried on, the Suzuki pair not appearing to hold each other up very much but neither of them managing to make the break they needed to.
And all the while Carlos Checa was gradually working his way through the field, the vastly experienced Spaniard extracting every ounce of performance from the privateer Ducati. Chris Vermeulen, after such a strong start, found himself getting fired into the barrier and severely beaten up by the bike after a mechanical derangement spat him off. And further back both Biaggi and Neukirchner had taken to the gravel after a dispute over track occupation, in that they both wanted to occupy the same bit. Both rejoined with some work to do. And Jakub Smrz crashed out at the Honda Hairpin, which claimed a lot of riders this weekend, unhurt but definitely out of the race.
So up at the front, Carlos Checa was picking his way past, one by one. Toseland, having a better race than the first one, was first to get passed, followed by Haga and Fabrizio in quick succession. Then Guintoli fell to the Spanish onslaught, suddenly dropping off the pace a little to also concede a place to Fabrizio. And on the last lap Checa pulled what was rapidly becoming his trademark move at the bottom of MG, slipping past Haslam and making use of his drive and positioning to outdrag the young Englishman to the line and deprive him of a double win. Fabrizio took his second podium of the day from Guintoli with Haga a distant three seconds back. Then there was another huge gap, over eight seconds, before Johnny Rea crossed the line with Troy Corser half a second behind him in a good strong finish for the BMW. Biaggi was a second further back while Cal Crutchlow managed to pass his team-mate Toseland on the final lap to beat him by just a third of a second. Camier was a couple of hundredths further back with Shane Byrne just a tenth behind him.
All in all, then, the first meeting was a humdinger. One that will stay on my Sky box for a while, I think. It bodes well for the rest of the season that nobody was able to make a break and totally dominate proceedings, and that pretty well every team was able to maintain the pace to run at or near the front.
Next round is Portimao. We'll be there, and I would thoroughly recommend that you are, too...
1 Leon Haslam (Suzuki)
2 Michel Fabrizio (Ducati)
3 Noriuki Haga (Ducati)
4 Jonathan Rea (Honda)
5 Max Biaggi (Aprilia)
6 Sylvain Guintoli (Suzuki)
7 Carlos Checa (Ducati)
8 Jakub Smrz (Ducati)
9 Troy Corser (BMW)
10 Lorenzo Lanzi (Ducati)

Race Two
1 Carlos Checa (Ducati)
2 Leon Haslam (Suzuki)
3 Michel Fabrizio (Ducati)
4 Sylvain Guintoli (Suzuki)
5 Nori Haga (Ducati)
6 Jonathan Rea (Honda)
7 Troy Corser (BMW)
8 Max Biaggi (Aprilia)
9 Cal Crutchlow (Yamaha)
10 James Toseland (Yamaha)
Championship Standing after one round:
1 Leon Haslam 45
2 Michel Fabrizio 36
3 Carlos Checa 34
4 Nori Haga 27
5 Sylvain Guintoli 23
6 Jonathan Rea 23
7 Max Biaggi 19
8 Troy Corser 16
9 Leon Camier 10
10 Lorenzo Lanzi 9
SB