In the United States there is a small town adjacent to Nellis Airforce Base in Nevada which is known as Fightertown, USA. Why? Because the town eats, breathes, sleeps military aviation. Go into a bar and there are pictures of aeroplanes and squadron memorabilia wherever you look. Misano Adriatica is the motorbiking equivalent. We walked past bars where MotoGP was showing on TV, even though Rossi is still out through injury and a Spaniard was pretty sure to win. Superbike posters are everywhere. Shops sell biking memorabilia, and some of it doesn't even have a number 46 on it. The town hero is one Pier-Francesco Chili. Even the World Cup seemed to be secondary to the serious business of running motorbikes as fast as possible. In short, Misano has really taken motorcycle racing to its heart. And it shows at the circuit, too.
Misano World Circuit is one of the few tracks on the calendar that can host two and four wheeled racing without either suffering as a result. Though somewhat flat, the circuit layout manages to remain interesting as it offers a decent number of turns in each direction as well as retaining fast and slow sections to test all aspects of a bike. And of the rider - Misano is a very physical circuit and it's hot as well. But since the direction was changed and some additional runoff added a few years back, it's a pretty safe place to crash, which is a bonus.
Practice and qualifying were largely uneventful, dominated by the Corser/BMW combination that just seems to be getting better and better each round. Fabrizio and Checa also showed strongly, as you might expect after having had three days oftesting here as part of World Ducati Week, and Haslam too put ina good effort. Shakey Byrne was a surprise in qualifying, taking second place behind Corser and ahead of Luca Scassa, another surprise who pulled something s tpecial out of the bag. Must be coming up to contract negotiation time. Championship leader Biaggi was a bit of a disapointment, only managing fifth, while Chris Vermeulen surprisingly didn't even qualify for superpole one, joining Baiocco and wildcard rider Sandi in taking an early bath.
Superpole started with twenty riders; Crutchlow, Fabrizio, Corser, Biaggi, Guintoli, Checa, Camier, Haga, Rea, Byrne, Scassa, Toseland, Smrz, Haslam, Lanzi, Xaus, Neukirchner, Sykes, Parkes and Hayden. The first superpole saw Crutchlow grab the fastest time with Neukirchner, Sykes, Parkes and Hayden not making the cut for session two. Second superpole held some surprises as many top riders didn't qualify, Camier, Haga, Rea, Byrne, Toseland, Smrz, Lanzi and Xaus, due to crashing, were all knocked out leaving Crutchlow, Fabrizio, Corser, Biaggi, Guintoli, Checa, Scassa and Haslam to go into the final session. After the last session Corser found himself getting an ideal lap, being the fastest in each sector and putting him on pole, breaking the lap record in the process. Biaggi qualified second and Fabrizio third, despite crashing half way through. Crutchlow gave a solid performance to take fourth, with Checa fifth, Guintoli sixth, Haslam seventh and Scassa rounding things up in eighth.

Race One started with Biaggi taking the lead from the first corner but Corsa overtaking him straight away. Checa fell into third and Fabrizio into fourth with James Toseland in eleventh, Camier in tenth and Rea doing well in eighth after starting from sixteenth on the grid. Rea overtook Crutchlow into seventh in the second lap and Smrz was black flagged due to a mechanical problem and had to retire from the race with smoke puring from the back of the Ducati. Crutchlow started to make his way up the grid but was baulked trying to overtake Haga and out-rode himself, crashing out of contention on lap five, leaving his bike on track and causing a slight obstacle for other riders - an issue which caused the eariler Superstock race to be red flagged for safety. Clearly the marshalls have woken up a little. At this point Broc Parkes was given a penalty ride through due his jumping the start.


Leon Haslam seemed to be realising how badly he needed to beat Biaggi to keep any hope of winning a title and tried to overtake Haga on lap six but was just taken straight back whilst Biaggi started trying for one better to take first from Corser. Haslam managed to stick his next overtake on Haga on lap eight and started chasing the front pack again. Lap nine ended it all for Xaus as smoke started to billow from his engine and he was black flagged, soon to be followed by Parkes for not doing his ride through.

Now, I'm sure you'll all remember the battles of the Troys, well, there's a new one in town. The battle of the Leons took place on lap eleven as Camier overtook Haslam, dashing his hopes of catching up on points to stay close to Biaggi in the championship. Rea started to drop down the pack as Toseland and Shane Byrne overtook him and Byrne soon went one better on lap sixteen by passing Toseland.

On lap seventeen Biaggi's efforts prevailed and, sadly, Troy Corser lost his lead, but not without a fight. Checa then also overtook Corser who seemed to be struggling to get the BMW to turn, and he was left in third place, which is how the standings stayed with Biaggi first, Checa second and Corser third followed by Fabrizio, Guintoli, Camier, Haga, Haslam, Byrne and Toseland rounding out the top ten.

Race Two again started with Biaggi taking the lead. However, this time, Corser was not having any of it and literally barged Biaggi out the way to get into first place, leaving a gap for Checa to follow as well as Fabrizio but Biaggi managed to take Fabrizio back. Haslam got a better start, finishing the first lap in fifth, started to climb, whilst Rea was in sixth and Crutchlow had fallen back into ninth, soon to overtake Rea as he ran wide, and fight his way up to seventh.


Fabrizio managed to overtake Biaggi and make it stick, leaving him in Haslam's capable hands on lap two, with Toseland down in eighth behind team-mate Crutchlow. Lap five was when things finally started to get interesting as Fabrizio made a very aggressive move on Checa to pass on the inside, followed by Biaggi. Haslam went to do the same but ran wide after Checa had a massive wobble and the Englishman was forced to sit up to avoind a crash. Haslam running wide allowed Checa to momentarily come back through, but Haslam pulled on the throttle and ran around the outside of all of them, keeping his third place.
Corser's first place ended in lap seven as Fabrizio overtook him on the first corner, shortly followed by Biaggi. Biaggi then outdragged Fabrizio on the straight of lap nine and overtook him on the first corner, Fabrizio took him straight back, touching fairings and riding rather more robustly than necessary I felt, but by the next corner Biaggi had overtaken him again and held it and began to pull away. Meanwhile Corser kept slipping down the pack as Haslam overtook him, it being distressingly clear this time that the BMW had really shot its tyres.

To make BMW's day even worse, Xaus retired and pulled into the pits in lap ten after dropping to the back and peering at various parts of his bike on the straights. Toseland crashed in a big way at the first turn on lap eleven, destroying his bike in what was almost a carbon copy of Crutchlow's Race One demise, but with the bike digging in and flipping over and over instead of just sliding. Fair play to him, though, as he was on his feet and running back to get started again straight away. Haslam kept climbing up the pack and overtook Fabrizio on the first corner of lap fourteen to take second place, Crutchlow then tried to also overtake Fabrizio but his attempt was immediately blocked but he kept trying through lap eighteen to twenty, when he finally managed to get into third place, which was short lived as on lap twenty-two, as Crutchlow almost crashed but managed to keep it upright, costing him some time and allowing Fabrizio to take him back on lap twenty three with the most aggressive block pass we've seen this season. All this battling left Biaggi to pull away into a seven second lead, leaving the final ten as Biaggi, Haslam, Fabrizio, Crutchlow, Checa, Guintoli, Byrne, Scassa, Haga and Corser.
So, the Pocket Rocket is now thirty-seven points behind championship leader Max Biaggi, but this championship is very unpredictable. Last time Toseland won he had been, at one point, sixty points in the clear but still only won by three...so anything can happen! Brno next, a round that is always interesting... and one of our favourites. We'll see you there.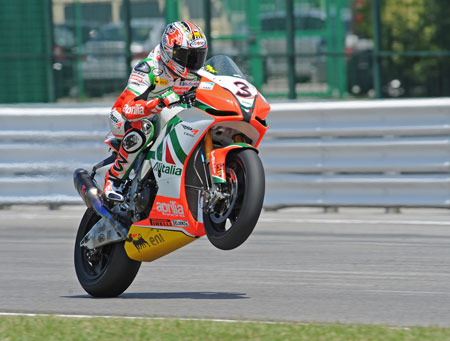 Race One
1 Max Biaggi (Aprilia)
2 Carlos Checa (Ducati)
3 Troy Corser (BMW)
4 Leon Camier (Aprilia)
5 Sylvain Guintoli (Suzuki)
6 Leon Camier (Aprilia)
7 Nori Haga (Ducati)
8 Leon Haslam (Suzuki)
9 Shane Byrne (Ducati)
10 James Toseland (Yamaha)

Race Two
1 Max Biaggi (Aprilia)
2 Leon Hslam (Suzuki)
3 Michel Fabrizio (Ducati)
4 Cal Crutchlow (Yamaha)
5 Carlos Checa (Ducati)
6 Sylvain Guintoli (Suzuki)
7 Shane Byrne (Ducati)
8 Luca Scassa (Ducati)
9 Nori Haga (Ducati)
10 Troy Corser (BMW)
Championship Standing after eight rounds:
1 Max Biaggi 307
2 Leon Haslam 270
3 Carlos Checa 172
4 Jonathan Rea 158
5 Nori Haga 151
6 Troy Corser 149
7 James Toseland 138
8 Michel Fabrizio 131
9 Leon Camier 130
10 Cal Crutchlow 120
LB